Casa Porta Azzurra – Seafront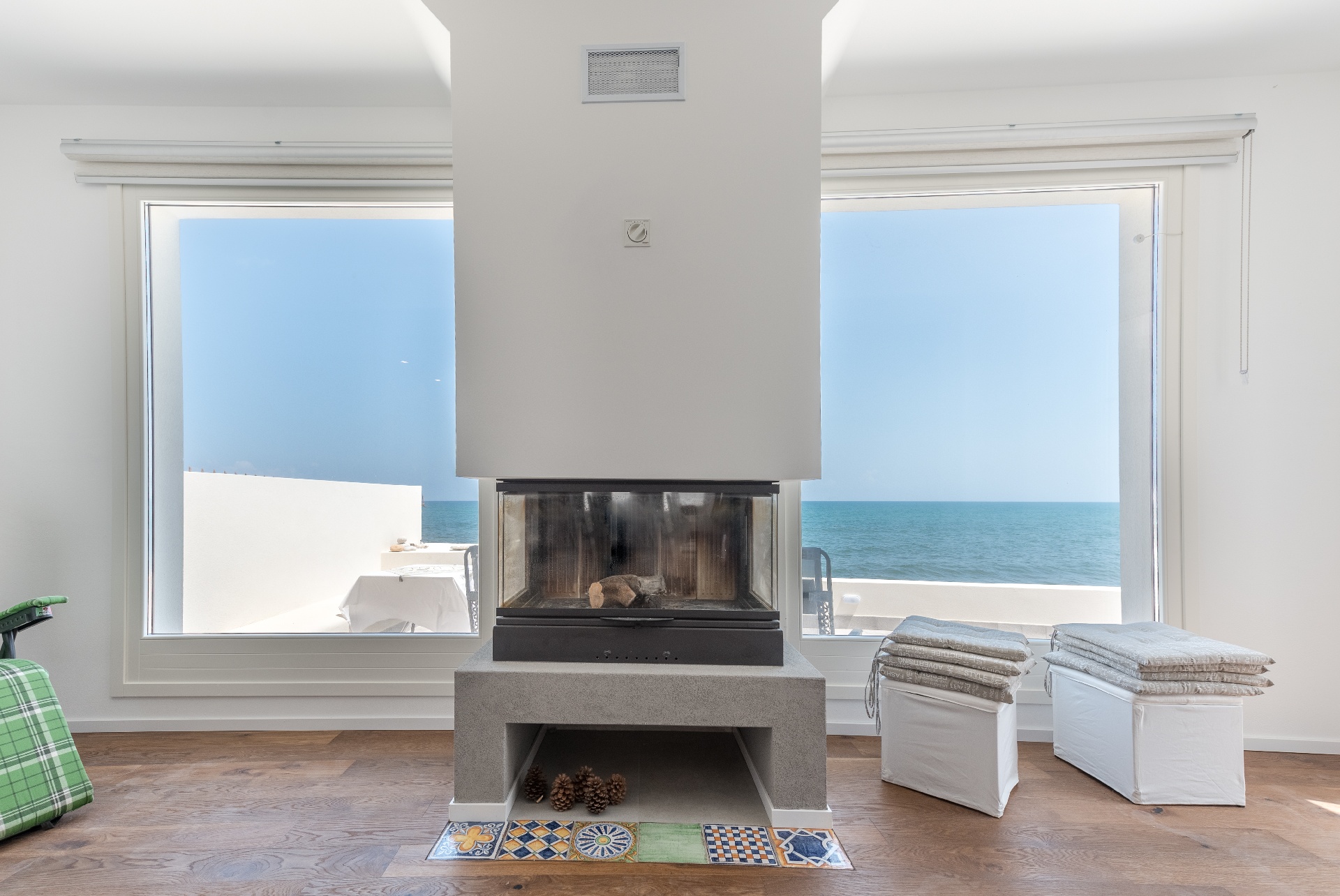 RENTAL — Seafront — High-quality fixtures — Close to town — Floor heating — Cooling — Open fire — Dishwasher — Washing machine — Terraces — Garden
Max number of guests: 10
Prices:
May 1st – November 1st: 1,500€/week – 2,000€/month
December 1st – April 30th: 900€/week – 1,500€/month
For longer stays, please ask for a quote
Seafront property with all comfort in place. The property was completely renovated in 2017 and has floor heating as well as cooling in all rooms.
It is distributed over a large kitchen/living room (in the living room are two sofabeds for two people each) with panorama windows facing the sea. Downstairs are also two double bedrooms and two bathrooms – one with jacuzzi and one with a generous shower. Upstairs is a small bedroom and a spacious roof terrace.
On the seaside is a lovely terrace with direct access to the sea. In the back of the property, is a small garden and parking.
The property is well-equipped, comfortable and suitable for summer as well as winter rentals.
To enter the property, you need to pass a low and narrow railway tunnel. It is recommended that you rent a small car for comfortable access. An ordinary Fiat-sized car is fine.
The location is countryside, yet only 1.5 kilometers from the town of Termini Imerese. To the airport is a 50 minutes drive.
Termini Imerese
Termini Imerese is a town with 26.000 inhabitants, located midway between Palermo and the popular tourist town of Cefalu. It was founded in year 407 BC by the Carthaginians. The name Termini Imerese is derived from the original name Thermae, due to the thermal springs, very health beneficial and reaching temperatures of up to 43 degrees. Today you can visit the thermal baths located at the beautiful Grand Hotel, combine the visit with a massage and a glass of spumante on the very panoramic terrace, and your day is done.
In Termini Imerese you find a lovely old town and a multitude of restaurants, bars, and shops. The town is very authentic and lively, with quite a young character to it. Noticeable many new bars and restaurants have opened in recent years, a trend that continues. The older parts of the town consist of a wonderful maze of narrow streets, washing lines and people who live and hang out in the alleys. The higher parts of town are newer, and here you find more cocktail bars and nightclubs.
The town beach is covered with pebble stone, nice and well attended. Here are sun umbrellas, the possibility to rent beach chairs, a couple of cafes, bars, lifeguards, showers, a discotheque etc. The beach is populated but never crowded. Approximately four kilometers to the west, towards Palermo, there are in addition many fine, sandy beaches.
Service
The town offers a rich variety of services and entertainment. Here you find large supermarkets, as well as small, local butchers and fruit vendors. Fresh fish and seafood are offered in every corner. Here is a hospital, two post offices, several restaurants, and bars.
The town has got a port and a well-maintained small-boat marina.
Communications
All trains pass and stop in Termini, and thus there are very good connections – you have trains leaving for Palermo more or less every half-hour. The autostrada passes, which makes it fast and easy to reach the rest of the island by car. A strategic location.
In town, it is difficult to find a property with private garage. Parking is on the street, wherever you find a free spot. To master the art of parking in the narrow, Sicilian, towns requires some experience. But don't worry, you will soon be there.
Worth mentioning
– Coastal town with beautiful, authentic old town center
– Good communications, with frequent trains to Palermo and airport
Property map