The Province of Agrigento
The southwestern coast and inland of Sicily have been forgotten and neglected by tourists in favor of the more frequently visited northern coast. It wasn't until recent years that things started to take off a bit for this region. But with two aces up its sleeve: Scala dei Turchi and the Valley of Temples, the future does look bright.
The main city of the region, Agrigento, was founded by the Greeks over 2500 years ago, and immediately became a city of great importance. The height of which probably was around the year 480 BC, when the city formed an alliance with Syracuse and defeated the Carthaginians at the battle of Himera on the northern coast of the island (called Termini Imerese today, you can read more about this city in the text about The Province of Palermo).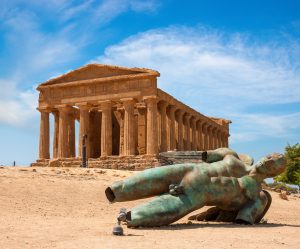 Today Agrigento is a modern city and a hub for the main industry of the region: Agriculture. If you take the provincial road SP4 heading south from the city, you will pretty much take a trip back in time. Valle dei Templi (the Valley of Temples) is Sicily's, Italy's, and possibly Europe's, most well kept and unique landmark. The entrance fee is 10€ and is an absolute must for anybody who finds themselves in the region. For once the entrance fee is paid, you will be greatly rewarded with seven Doric temples from the 6th and 5th century BC, complete with roads, building foundations, and an amphitheater. There are also early Christian catacombs found on the site.
If you continue further along the road, past Agrigento's harbor town of Porto Empedocle, and pay close attention to the brown road signs notifying you of the nearby sights, you will find Scala dei Turchi (Stair of the Turks). Several hundred meters long, and roughly 50 meters high, these white limestone cliffs have been ground down by the waves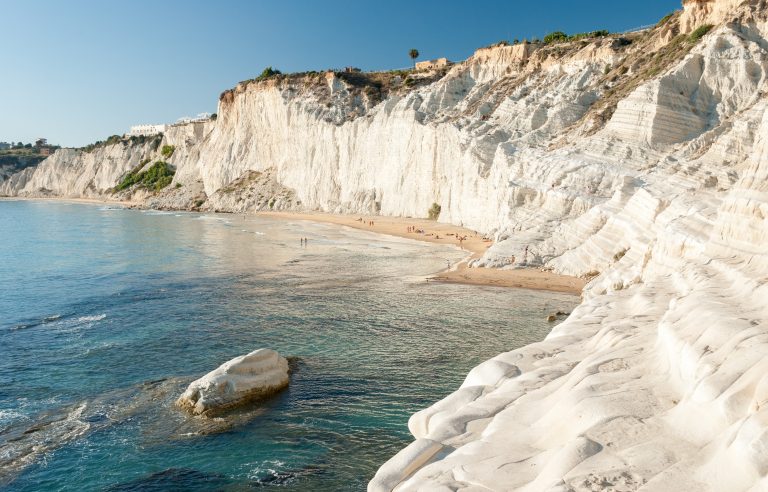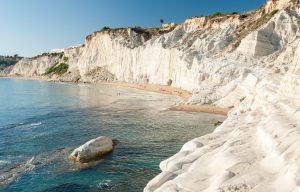 into a natural stairway, where every step is between 5 and 10 meters deep. The clear, white cliffs in combination with the turquoise Mediterranean is truly a sight to behold, and you would be hard-pressed not to enjoy a swim while here. It does tend to get a bit crowded during high season however, so if you are in the mood for a more private swim, the coast of the province consists of about 150 kilometers of sandy beaches, many of which are completely empty even during high season.
In a more gastronomical sense, the seafood dishes reign supreme. One of the biggest fishing fleets of Italy departs from the town of Sciacca, so fresher fish than here is hard to come by. Cheese, wine, and of course, olive oil are all very important ingredients, both to the gastronomy and economy of the region.